Late yesterday afternoon, Roxy, a beautiful and docile one year old staffy girl, was dumped at social services by her young owners father. He explained that he had been looking after Roxy for a week as his daughter had been forced to give her up due to a break in her tenancy agreement. He had given his daughter a week to find a home for her and that week expired yesterday, so he dumped her in the reception area and left. Shortly after, Roxy's young owner turned up in tears explaining that she didn't know what to do.
The staff tried calling various rescues, the RSPCA and the dog warden, but none of them could help. So, they were advised by the head of service to take her to the vets to be put-to-sleep. At this stage, I agreed to take her on a temporary basis until a rescue space or home could be found. So, I am hoping that somebody will be able to help this lovely, lovely girl.
Despite only being 12 months old, Roxy is a very calm and placid girl with good manners. She is quite petite for her breed and very pretty. She has been well behaved with Tess and the cats- but does like to follow them around! She is fully house trained and will let you know if she wants to go out by standing at the back door.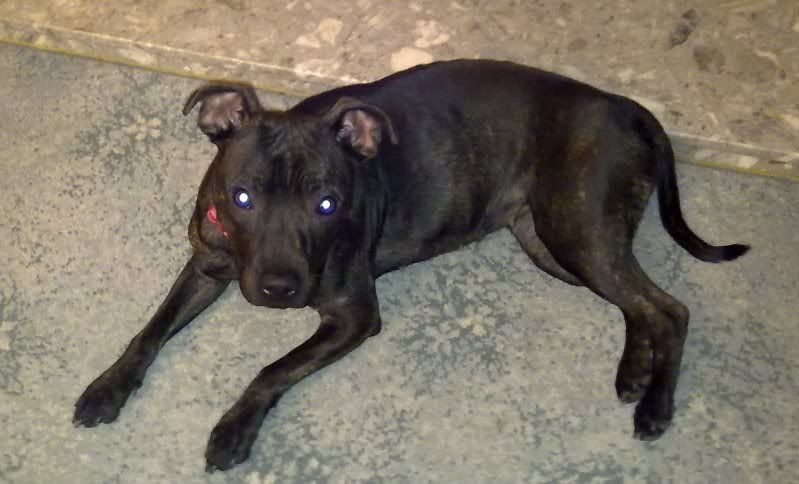 She is very, very loving and affectionate and undemanding. She follows basic commands well and has the potential to learn more. She would probably be a great dog for somebody interested in agility as she is very eager to please.
So far everybody that has met Roxy, has fallen in love with her- even those that don't like dogs. She is an absolute star and would flourish in a good home. I really can't speak highly enough of this dog, she is lovely.
If anybody is able to help, please get in contact.